Events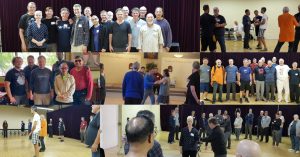 Los Angeles Internal Martial Arts Intensive Training with Emil Rechester
Saturday, October 23, 2021 
Happy to announce that I will be hosting one day only Internal Martial Arts Push Hands Intensive Training.
This event will be in Los Angeles on October 23th, 2021 in the beautiful LA Reseda Park.
This training will be dedicated to the most common mistakes Tai Chi Push Hand players make while engaged in the exchange. Energy, listening skills, timing, yielding, discharging energy, opening and closing, and more other commonly spoken words, that are widely used in the Internal Martial Arts community, but rarely experienced and often never properly practiced by practitioners, therefore constantly falling short by speaking about it and yet not being able to apply it.
This is only one-day training and amount of people is limited.
If you're tired of making the same mistakes over again and again and ready to take your Tai Chi practice to a new level … this workshop is for you!
Topics that will be covering include:
Saturday 10/23/2021  from 10am to 1pm
1. Basic Training ( Wu-Ji Zhuang Three Lines Down Meditation)
A – Methods of Ma Bu Zhan Zhuang and Horse Stand
B – Yuan Qi Fa, Tu Na (breathing training)
2. Zhong Ding Jing training methods (training with a partner)
3.  Body Alignment
4. Hand Connection Partners work and free push hands techniques
TUITION:
Cost $100.00
SEND PAYMENT TO:
Emil Rechester
1550 Montessouri St.
Las Vegas, NV 89117
LOCATION:  Reseda Park